Glenbard West High School
Class of 1976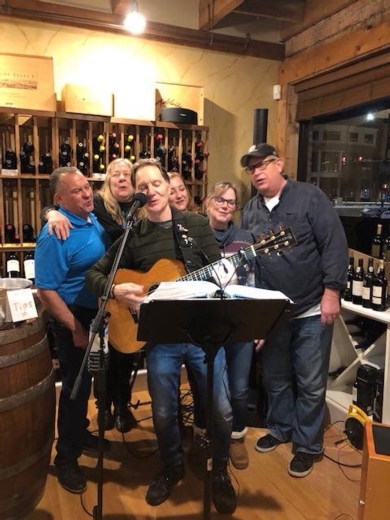 Hey Glenbard West Class of '76!
We're doing it again! We had so much fun at our last Class Bash, we're throwing another get together this Fall...Saturday, September 28, 2019.
Fellow '76er, Bob Sommer, who owns The Wine Exchange in downtown St. Charles, IL has graciously offered his gorgeous establishment for GW alums to gather once again. There's even a patio with a view of the Fox River.
Best of all, Bob is offering a free wine tasting for each alum attending this event. There are also hundreds of wine and beer selections along with cheese boards and flatbreads for purchase that evening.
For some added fun, classmate Jim Campbell will be performing many of our favorite tunes. He'll bring an extra guitar, shakers, and song sheets so we can join in and sing along.
Timing:
Saturday, September 28, 2019 4:00-? (Till Bob kicks us out)
-Free wine tastings from 4:00-7:00 p.m.
-Wine, Beer, soda, flatbreads, cheesboards are available for purchase all evening
-Entertainment: Music with Jim Campbell 6 pm - ?
Location :
The Wine Exchange (in downtown St. Charles, IL by the Fox River)
-1 Illinois Street, St. Charles, IL 60174 (corner of Illinois and 1st Street)
-Lots of Free Parking
So, mark your calendars to join your fellow GW classmates in some Fall fun!
That weekend is also Glenbard West's Homecoming, so make a day of it before coming to the Wine Exchange to have fun with your fellow 76ers!